If you have any information about these crimes or any person(s) involved, you are urged to call Crime Stoppers at 745-3333 or submit a Web Tip on this secure website. You do not have to give your name. Your call could earn you up to $1000.00, if the information leads to the arrest or criminal indictment of suspect(s).
AST #10-19189 - Burglary I/Theft 2
March 08, 2010
On 3/8/10 at approximately 5:23 PM, Alaska State Troopers responded to a report of a burglary at a residence located off of Pintail Cir., Wasilla. Investigation revealed that one or more individuals entered the residence and took electronics valued at approximately $1500. Investigation is ongoing.
---
AST #10-17187 - Burglary 1/Theft 2
March 01, 2010
On 3/1/10 at 9:00 PM, AST in Palmer responded to a residence off of Shennum Drive, Wasilla for a reported Burglary. A female at that residence reported several items missing including a laptop computer, iPod Shuffle, iPod Nano and Canon Camera valued at approximately $1,600. AST investigation continues.
---
AST #10-13347 - Burglary 1/Attempted Vehicle Theft I
February 16, 2010
On 2/16/10 at approximately 5:55 PM, Alaska State Troopers investigated a residential burglary on Moose Ridge Circle near mile 8 of Knik Goose Bay Road in Wasilla. Investigation revealed that sometime between 2/12/10 and 2/16/10, unknown person(s) entered the residence by force, stole approximately $1500 of personal property and electronic equipment, caused approximately $2000 damage to the property, and attempted to steal a vehicle from the property. This investigation is continuing.
---
AST #10-12800 - Assault 3rd & Attempted Robbery
February 14, 2010
On 2/14/10, at approximately 5:00 PM, Alaska State Troopers responded to the mile 49 Holiday Gas Station in Wasilla for a report of an assault and attempted robbery. Alaska State Troopers contacted a female victim at the gas station. Investigation revealed that the female was assaulted outside of the gas station store when the male suspect attempted to take her purse. The suspect was reported to be a Caucasian or Native male in his 20s, wearing a white beanie hat, white ski goggles, black hooded sweatshirt, and baggie jeans. EMS responded to the scene and treated the female for injuries.
Investigation is ongoing.
---
AWT #10-12303 - Malicious Mischief of Public Property
February 12, 2010
On 2/12/10, the Division of Alaska Wildlife Troopers received a report of an Interpretive Panel that was destroyed by bullet holes that included minimal damage to the Kiosk. This incident happened sometime between 1/16/10 and 2/12/10. The Interpretive Panel/Kiosk is located at Reflection Lake in the Palmer Hay Flats State Game Refuge at the Knik River Access off the Glenn Highway (MP 30.6). The cost of the replacement panel is valued at approximately $500. For more detailed information regarding this incident you may call Joe Meehan with the Dept. of Fish and Game at 267-2281.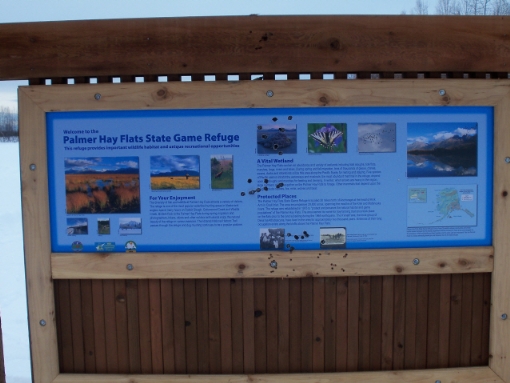 ---
AST #10-6041 - Burglary I, Theft
January 22, 2010
On 1-22-10 at approximately 6:02 PM, Alaska State Troopers responded to a report of a burglary at a residence located off of Fireweed Fields Dr., near Meadow Lakes. Investigation revealed no forced entry. Approximately $7,000 worth of electronics which included a 46" LCD Sony Bravia television, HP laptop computer, 22" Phillips flat screen WXGA, Kodak Easy Share camera, Summer baby monitor and jewelry were stolen from the residence.
---
AST #09-112450 - Hit & Run Involving Motor Vehicle
December 20, 2009
On 12/20/2009 at approximately 5:30 PM, Alaska State Troopers responded to a reported Hit and Run that took place in a parking lot located 1.5 miles from the Point Mackenzie Store. Kim M. Silsbee, age 45, of Anchorage, reported that she had parked her rental vehicle bearing Alaska plate FRM348 described as
a gray 2009 Ford pick-up truck in the parking lot during the morning hours on 12/19/2009. Silsbee returned to the vehicle on 12/20/2009 and found that it had been struck by another vehicle and damaged. Damage was estimated at $8,000 dollars.
---
AST #09-104634 Residential Burglary
November 23, 2009
On 11/23/09 at approximately 1:32 PM, Alaska State Troopers received a report of a burglary off of Oronoco Court in Wasilla. The burglary is suspected to have occurred between 11/20/09 and 11/23/09. A burglar entered through the front door of the residence, opened the garage door, and stole a snowmachine. The garage door was damaged during the process and the damage is estimated to be approximately $1,500. The snowmachine is valued at approximately $7,000 and described as a green 2007 Arctic Cat Model M8 141 (similar to the attached photo).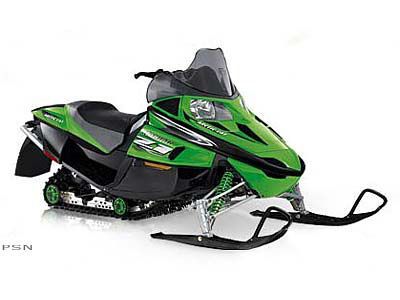 ---
AST #09-103162 Residential Burglary
November 18, 2009
On 11-18-09 at approximately 9:23 AM, Alaska State Troopers responded to a residence on Sylvan Road in Wasilla for the report of a burglary. Investigation revealed that sometime during the night unknown individuals kicked in the front door of an unoccupied residence and stole over $2,000.00 in tools and personal items. Specifically, a jack hammer Bosch Model 11304K bearing serial number 689001990 was rented from United Rental (similar to picture). Other items stolen from the residence are a Dewalt radial arm saw valued at $600.00, and a Senco finish nailer with blue spray paint on it and "No Oil" written in black marker valued at $400.00.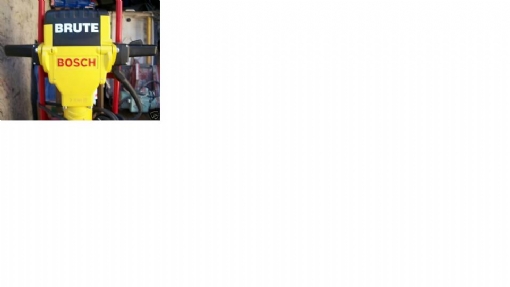 ---
WPD Case #09-1659 Theft
November 06, 2009
On November 6, 2009 at 11:12 AM, the Wasilla Police Department received a report of a theft at Grasshopper Aviation located at the Wasilla airport. It was reported that sometime during the last few weeks, 600 gallons of fuel and a 100 gallon fuel tank including the hoses and pump were stolen. The estimated loss is approximately $4,000. The Wasilla Airport is located at the end of Museum Road at approximately Mile 46.5 Parks Highway.
---
AST Case #09-99660 Hit & Run Involving Motor Vehicle
November 05, 2009
On 11/05/09 at approximately 3:49 PM, Alaska State Troopers received a report parked vehicle that was damaged from a hit and run incident at Church Road and Pittman Road in Wasilla. Investigation revealed that a blue 1996 Ford Ranger was left on the side of the road after having transmission problems at 4:30 AM that same day. The vehicle damage is estimated at $3,000. Anyone with any information concerning this investigation is encouraged to contact the Alaska State Troopers at either 745-2131 or 373-8300, or to call Crime Stoppers at 745-3333.
---
AST Case #09-94385 Vehicle Theft
October 19, 2009
On 10-19-09 at approximately 8:30 AM, Alaska State Troopers (AST) received a report that a dark blue 2006 Harley Davidson Custom Road King motorcycle was taken from the area of S. Big Lake Road near Fish Creek Park in Big Lake just past the Hanger Bar. The motorcycle was reportedly broken down at approximately 1:00 AM on 10-19-09, left on the side of the road, and stolen sometime after that. AST is asking for the public's help regarding this incident particularly if there was suspicious activity around the incident area or if the bike was seen being transported. In addition, the dark blue motorcycle has black leather saddle bags, fairing, and custom wheels (similar to the one pictured above).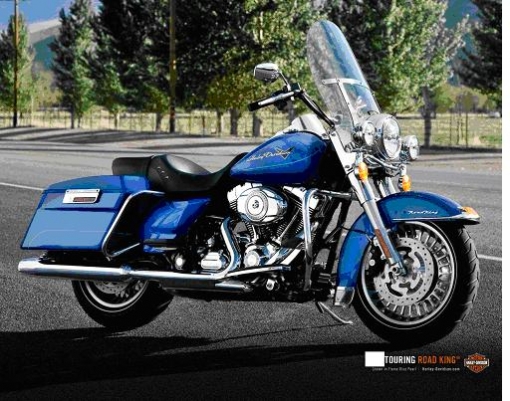 ---
WPD Case #09-1481 Theft
October 01, 2009
On 10-1-09, at 9:30 AM, the Wasilla Police Department received a report of a theft of an Onan gas powered 4Kw RV generator. The generator was on display at the RV Show located at the Sportsman's Warehouse parking lot in Wasilla. The generator was stolen between 9-27-09 and 10-1-09. Loss is estimated at $4,000.
---
AST Case #09-85840 Sexual Assault
September 20, 2009
The Alaska State Troopers needs help from the public identifying a person of interest in a sexual assault which occurred early Sunday morning on 9-20-09. At approximately 4:00 AM, a 22 year old female accepted a ride home from the Mug Shot Saloon in Wasilla from an older white male driving a "box" type motor home. The male was not known to the female. The male drove the female to a park where the male possibly sexually assaulted the female. The female has no recollection of what happened. She woke up inside the motor home without any clothes on. The female walked home and called State Troopers. The male is described as an older adult Caucasian, about 5'9", tanned complexion, broad shoulders, and a thick chest.
---
WPD #09-1330 Armed Robbery
August 31, 2009
On 8/31/09, at approximately 6:32 PM, Wasilla Police Department received a 911 call from the Iditarod Headquarters on Knik Goose Bay Road. The female employee reported that an armed robbery had just occurred and that two males ran into the woods toward Smith Ballfields with two bank deposit bags containing over $500 in cash. The caller stated that she was closing the store when two males entered from the back door and demanded money. A detailed description was provided. She described the first male as approximately 26 years of age, wearing a black hoodie, blue jeans that were ripped at the knees, a shaved head and blue eyes. She described the second male as approximately 30 years of age, 6`2", white "muscle" t-shirt, brown eyes, black ball cap, blue track shorts and had sores on his face. Investigation is continuing.
---
WPD Case #09-922 Commercial Burglary
June 23, 2009
On June 23, 2009, at 12:25 AM, Wasilla Police were called to the European Deli at 300 W. Swanson Avenue for a burglary. A cash register worth $200 and approximately $100 worth of change inside the register was taken. Entry was gained through the back door by means of a pry bar. Damage to the steel door and frame is estimated at $1,000.
---
PPD Case #09-2478, 09-2531, Burglary of Storage Units
May 20, 2009
On May 20, 2009 at approximately 8:49 AM, Palmer Police Officers responded to a burglary at the Mat Valley Mini Storage at 585 S. Valley Way, Palmer, AK. Investigation revealed that unit #87 and 106 had their locks cut and property stolen.
Some of the items stolen from the storage units were a Roberts power carpet stretcher; Roberts 6" carpet steaming iron; Roberts electric staple gun; Roberts carpet knee kicker; Crane 75 pound carpet roller; ivory head mount, relief carved with moose, bear, caribou and fish; and one set of Ping G2 golf clubs with Callaway woods, an Oddessy putter, and a black and tan Ogio bag.
The estimated total value of the items stolen from these units is valued at approximately $15,000.00.
---
AST Case #09-38968, Death Investigation
May 15, 2009
On May 15, 2009 at approximately 3:34 AM, Alaska State Troopers responded to a 911 call reporting a body lying in the southbound lane of the Parks Hwy. near the intersection with Vine Rd. outside Wasilla. On arrival, at approximately 3:36 AM Troopers found a deceased male, Scott L. Johnson, age 22, of Wasilla, laying face down in the outbound lane. There were no vehicles in the immediate vicinity. Members of the Bureau of Highway Patrol, South Central Team and the Alaska Bureau of Investigation responded to the scene. The Alaska Bureau of Investigation has assumed responsibility for this case, and investigation is ongoing.
---
Home Invasion-Burglary/Criminal Mischief
April 18, 2009
AST Case #09-30098
On 4/18/09 at approximately 1:10 AM, Alaska State Troopers responded to a a Burglary at a residence on Spruce Dr., Wasilla, AK. Investigation revealed that three males forced themselves into the residence by kicking in the back door to the house. The suspects entered the residence screaming "this is the police" while pointing flashlights in the victim`s face. The victim realized that the hooded men were not law enforcement as they attempted to remove an antique chest from her closet. The three suspects fled leaving behind the chest. The suspects were wearing black face masks and thought to be young. These suspects were observed fleeing the scene in a bright red two-door sedan at a high rate of speed.

Damage to the door is estimated at $300.00.
---
AST Case #09-18738, Residential Burglary
March 08, 2009
On March 8, 2009 at approximately 5:28 PM, Alaska State Troopers received a report of a burglary at a residence located on Starlight Street, Wasilla, AK.
Investigation revealed that suspects, caught on home surveillance video, forced their way into the residence through a window and stole approximately $2,300 in cash. From the video it appeared that the suspects were two white male individuals, entering the residence, while a third suspect remained in a late model
2003-2007 white GM Silverado or Sierra basic model extended cab short bed pickup truck.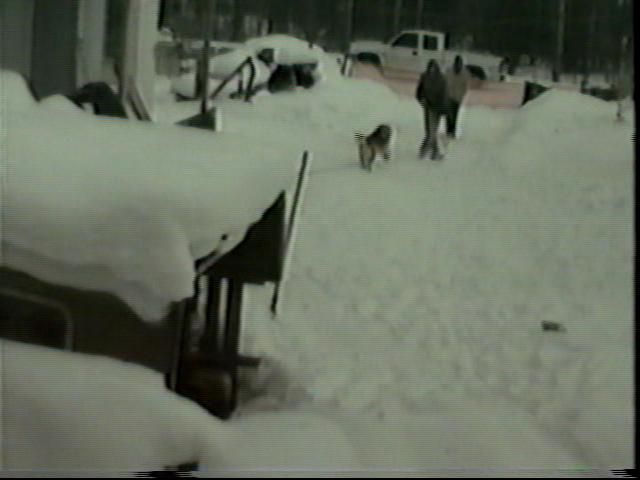 ---