If you have any information about these crimes or any person(s) involved, you are urged to call Crime Stoppers at 745-3333 or submit a Web Tip on this secure website. You do not have to give your name. Your call could earn you up to $1000.00, if the information leads to the arrest or criminal indictment of suspect(s).
Counterfeiting of US Currency WPD #13-40,#13-32,#13-16,#12-2006,#12-2000,#12-1999,#12-1986,#1942
January 13, 2013
****SOLVED****
Between the months of December 2012 and January 2013, Wasilla Police has received approximately eight reports involving counterfeit bills being passed through local area businesses as legitimate money resulting in losses of over $3,300. The denominations of these bills range from $5 through $100. Currently $5, $10 and $20 bills are the most common bills being passed. If anyone has any information regarding the counterfeiting of US Currency, contact Mat-Su Crime Stoppers.

---
WPD #13-24 Theft
January 09, 2013
***SOLVED***
On Sunday 1/6/13 at approximately 10:27 AM, Wasilla Police responded to a report of a theft at the Best Western Inn located on Lake Lucille Drive. There were eight 42" Hisense LCD televisions stolen along with various other items belonging to the hotel. The value of the items stolen is estimated at $5,270.
---
WPD #13-06 Robbery
January 03, 2013
Additional picture of suspect.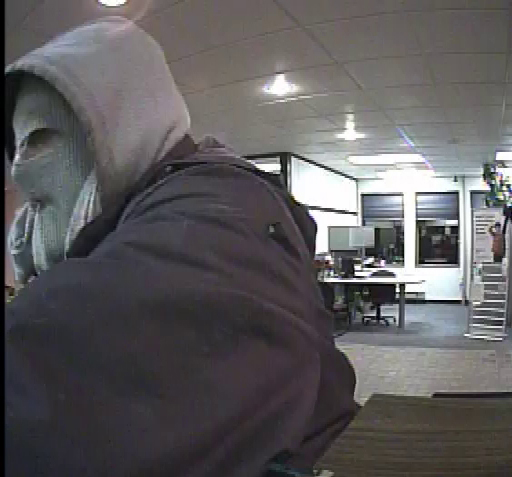 ---
WPD #13-06 Robbery
January 03, 2013
On Wednesday, 1/2/13 at approximately 4:46 PM Wasilla Police were notified that Key Bank located on Lucille Street in Wasilla had just been robbed. The suspect wielded a box cutter and fled on foot with an undisclosed amount of money. The suspect is described as an adult white male 5`7" wearing a black Carhartt jacket and pants. The suspect was also wearing a hood with what appeared to be a cut out ski mask.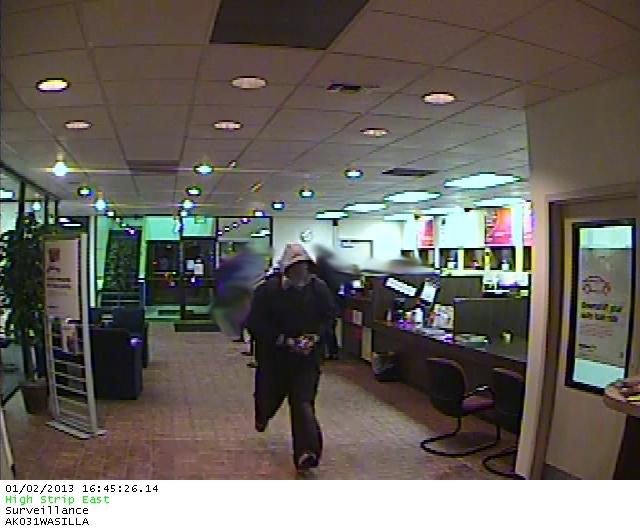 ---
WPD #12-1998 Theft
January 01, 2013
Additional picture of suspects.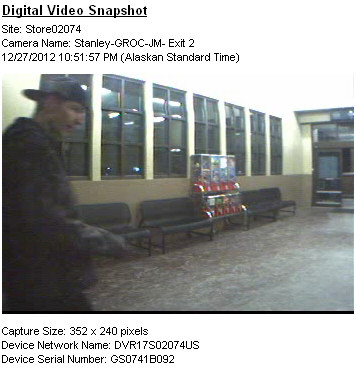 ---
WPD #12-1998 Theft
January 01, 2013
On Thursday, 12/27/12 at about 11:54 PM, Wasilla police investigated a report of items stolen from a vehicle parked in the Wal-Mart parking lot. Items taken include a Blackhawk .44 caliber pistol with stock handgrips (but missing two brass emblems) worth $800; a black Toshiba laptop with OEF stickers worth $500; baby clothes worth $200 and a DVD video from an ultrasound of the victim`s unborn child. Security video from Wal-Mart showed the theft occurred at 11:09 PM. The suspects are described as two adult males with tall and slender builds in which one was wearing a camo jacket and the other was wearing a dark hoodie with a light green shirt. The suspects were seen leaving in a green four-door Crown Victoria type sedan. According to the report, Wal-mart management believed the same vehicle was involved in similar thefts in their parking lot during the last couple months.
See additional suspect picture below.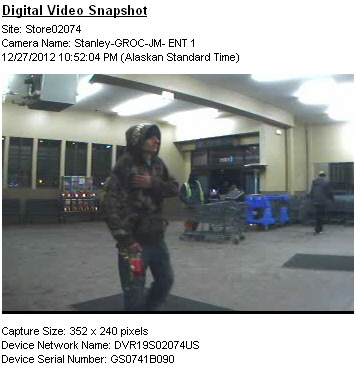 ---
WPD #12-1615 Burglary
December 14, 2012
On Tuesday 10/16/12, at approximately 5:57 PM the Wasilla Police Department received a call from a homeowner who reported someone had burglarized their residence located on Ashford Blvd. near Church and Spruce Avenue in Wasilla. The burglary occurred that day between noon and 5:47 PM.
Items stolen include a Bushmaster AR15 .223 cal semiautomatic rifle, a Mossberg 12 gauge shotgun Model 500 (black finish), a 50" Panasonic TV, a 37" Vizio TV, and a Dewalt 4 tool combo. The estimated value of damage and items stolen is over $3,750.
---
AST #AK12251955 Vehicle Theft 1st
December 07, 2012
RECOVERED
On Sunday 11/25/12 at approximately 4:17 PM, Alaska State Troopers responded to a business located on Begich Drive in Wasilla after receiving a report of a travel trailer stolen from the property. Investigation revealed sometime after 8:30 AM on Saturday, unknown person(s) entered the property and stole a 30' Jayco, Model 302 Eagle travel trailer (white and burgundy in color). Similar picture.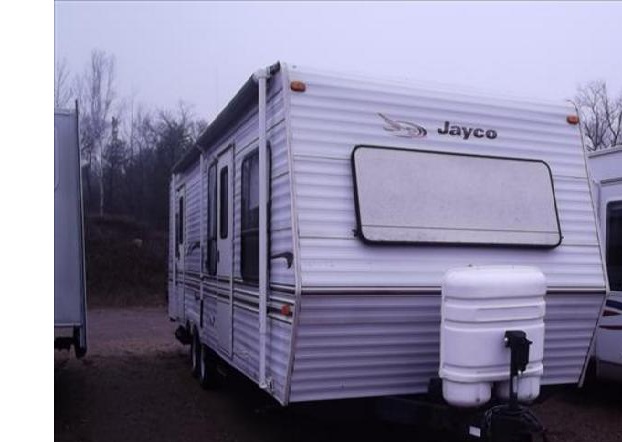 ---
AST #AK12253472, Multiple Coffee Stand Burglaries
December 05, 2012
Between Saturday, 12/1/2012 and Monday, 12/3/2012, Alaska State Troopers have investigated a number of coffee stand burglaries spanning from the Big Lake area to Palmer. In most instances, forced entry was gained by kicking in doors or breaking out windows. Most coffee stands had very little if any cash on hand but the total amount of damages between the locations totals approximately $10,000.
---
PPD #12-6845 Criminally Negligent Burning
November 04, 2012
****SOLVED****
On Thursday, 11-1-12 at approximately 8:47 PM, Palmer Police responded to a structure fire on a vacant city lot located at the corner of Fireweed and Gulkana in Palmer. The 10' x 16' structure was a total loss with an estimated value of $10,000. Three male juveniles ranging in age from 12-16 years of age were seen in the area approximately 25 minutes prior to police responding. Investigation continues.

---
AST #AK12241292 Theft, Burglary, Trespassing
October 14, 2012
On Monday, 10/08/12 at approximately 10:30 AM Alaska State Troopers responded to the Sacred Heart Catholic Parish on Bogard Road in Wasilla for the report of burglary and theft. Investigation revealed sometime between 10/07/2012 at 6:00 PM and 10/08/2012 at 8:00 AM, an unknown person entered the Parish and stole approximately $6900 worth of religious-specific property and damaged items valued at approximately $100. The investigation is continuing.
---
AST #AK12235402 Burglary, Criminal Mischief, Theft
September 19, 2012
On Thursday, 9/13/2012 at approximately 5:50 PM, Alaska State Troopers responded to a residence on Becky Lane in Big Lake for a reported burglary. Investigation revealed, the residence was broken into and a Bosch power box radio, one case of Gatorade, and various food items were stolen from inside. The suspect disconnected the oil hose from an internal Toyo stove which leaked heating oil throughout the house, seeped through the floors, and caused severe damage.
Estimated damage to the residence is $8,000.00. Investigation continues.

---
AST #AK12233357 Malicious Mischief of Public Property
September 15, 2012
On September 4, 2012, Alaska State Troopers received a report from the Alaska Department of Fish and Game involving extreme vandalism occurring sometime around September 1st to the restrooms located at Reflections Lake and the Knik River Access. This facility is located along the Glenn Highway in the Palmer Hay Flats State Game Refuge. It was reported that someone discharged over 16 rounds from a firearm into the restroom doors and indications are that no one was inside the restrooms at the time. Door handles and other improvements at the site were also vandalized. In a separate incident, sometime between September 2nd and September 13th, someone riddled a kiosk and interpretive panels with bullet holes. The total estimate of damages is $5,000.
Of note, these facilities were installed by the Mat-Su Borough and Alaska Department of Fish & Game as part of the National Scenic Byways Program and the interpretive kiosk was installed by a local Boy Scout as part of his Eagle Scout community service program.

---
WPD #12-1373 Burglary
September 05, 2012
On Tuesday, August 28, 2012 at approximately 8:10 PM, Wasilla Police responded to a report of a burglary on Bay View Drive. The residence was burglarized sometime between August 26 and August 28 and entrance was believed to have been obtained through the locked front door. Music and camera equipment including a Fender stage 160 amplifier, Boss and Eddie Van Halen Phase 90 brand pedals, GoPro Hero 2 camera, an Olympus Tough TG-820 digital camera, and a black Springfield Arms Co. .45 semi-automatic pistol were stolen. Estimated loss is approximately $3,015.
---
WPD #12-1245 Burglary
August 19, 2012
On Tuesday August 7, 2012 at 6:20 PM, Wasilla Police responded to a report of a burglary at a residence on Cache Drive which occurred between 5:15 PM and 6:15 PM. Investigation revealed the front door had been kicked in and a glass television stand was smashed across the living room resulting in $1,150 worth of damage to the residence. The items stolen are described as a 55" black Sony LED Motion Flow television worth $4,000, a 15" MacBook with charger, mouse and Keyboard skin worth $1,000, an iPod with head phones worth $250, and a Universal Sony TV/VCR home theater remote worth $100. Total amount of loss and damage is estimated at $6,500.
---
WPD #12-1183 Burglary
August 09, 2012
On Monday July 30, 2012, Wasilla Police received a report of a burglary at residence on Pioneer Drive. The burglary occurred sometime over the weekend of July 27 through July 30. Entrance was possibly made through the rear door. Eight firearms were stolen totaling approximately $2,840. The stolen firearms are:
Smith & Wesson K-15 .38 special Revolver with basket weave holster
Mossberg 12 ga blued pump action shotgun
AMT Automag II stainless steel .22 pistol with Uncle Mikes Holster
Charter Arms Undercover .38 pistol with pancake holster
Taurus Undercover .357 pistol with pancake holster
Smith & Wesson .44 blued pistol with pancake holster
Smith & Wesson .357 mag with Uncle Mikes holster
Smith & Wesson .357 mag blued pistol with pancake holster

---
Palmer PD #12-4713 Arson
August 09, 2012
On Tuesday August 7, 2012 at 3:33 AM, a caller phoned 911 to report a fire at the Matanuska Maid Building in downtown Palmer. Palmer Fire & Rescue responded to the scene, with mutual aid assistance from the Mat-Su Central Fire Department. Palmer Fire & Rescue Chief John McNutt arrived to see fire emerging from under the eaves of the building. Within moments, the entire roof of the structure was engulfed in flames.

A perimeter was established, and aerial (ladder) apparatus from both Palmer and Mat-Su Central surrounded the fire using the aerial apparatus to fight the blaze. A total of 31 fire apparatus were on scene to assist. There were no reports of injuries, but the historical building is a total loss. The fire was knocked down by 6:40 AM, and crews remained to monitor the safety of the scene. The State of Alaska Fire Marshal's office was called to the scene to assist in the investigation into the cause and origin of this fire.

It was reported a silver 4 door pickup was seen leaving the area at a high rate of speed when the fire was first detected.

---
AST #AK12218446 Burglary II, 2 Counts Vehicle Theft 1, Theft 1, Theft II
July 13, 2012
*****SOLVED*****
On Monday 7/9/12 at approximately 8:00 AM, Alaska State Troopers received a report of a burglary from the Alaska Division of Forestry building on Woodrow Loop in Palmer. Investigation revealed multiple forestry items were stolen sometime over the weekend to include several Stihl chainsaws, computers, personal items of crew members, and two vehicles. The two vehicles stolen from the forestry building are a silver 2002 Toyota Tundra bearing Alaska License plate FHA176 and a white 1998 Toyota Tacoma bearing Alaska License plate EPD399.
---
AST #AK12215612 Structure Fire - Suspicious
July 13, 2012
On Thursday 6/28/12 at approximately 12:30 AM, Troopers responded to 24350 W. Pool Drive in Willow for the report of a structure fire. Investigation by Mat-Su Borough Fire and Troopers determined the structure had no known source of ignition within the structure and was an abandoned building. Fire personnel also determined there were no individuals inside the structure at the time of the fire as the fire was extinguished. The State Fire Marshal's Office is responding to assist with the investigation into the cause and origin of the fire. The value of the property according to the Mat-Su Borough web site is $42,500. Investigation is continuing
---
WPD #12-778 Burglary
July 10, 2012
On May 24, 2012, at 7:18 PM, Wasilla Police responded to an apartment complex on Heritage Drive for a report of a Burglary. Two residents reported their apartments had been broken into sometime during the day. There was damage to the doorjamb, deadbolt and doorknob. One victim states he is missing tools and an X-Box game console. The second victim is missing his Mossberg 12 gauge shotgun, Asus laptop computer and approximately 20 blue ray movies. Total loss is approximately $2,000. No suspects have been identified at this time and investigation continues.
---